The Communauté de Communes de Cattenom et Environs and the Office de Tourisme de Cattenom et Environs are responsible for data processing and are attentive to the protection of your personal data. In this respect, the purpose of this privacy policy is to inform you of how your data is processed and ensure compliance with the regulations in force, in particular European Regulation EU2016/679 of 27 April 2016 and the French data protection and freedoms act 78-17 (Loi Informatique et Libertés), as amended of 6 January 1978.
This privacy policy applies to all websites, applications and services published and used by the Communauté de Communes de Cattenom et Environs. As this policy will be updated in accordance with the legal provisions and the services offered by the CCCE, we invite you to consult it as frequently as possible.
What personal data is collected?
Several types of personal data may be collected on the website and other digital solutions, in particular:
identity data;
contact details;
data relating to browsing preferences;
electronic identification data.
Why is some of my data collected?
Your personal data, collected by the Communauté de Communes de Cattenom et Environs, allows us to:
provide you with services: online payment and donation, access to a donor area, response to contact requests, sending of documentation or information;
better target our donation campaigns and monitor them;
offer you an optimal browsing experience on the website: adapting display according to the device used, storage of preferences, etc.;
provide quality support for isolated elderly people;
offer you the chance to share via social media;
carry out statistical analyses of visits and donations on our website.
How long is my data retained?
The data collected will be processed and stored for as long as necessary to achieve the purposes for which they are processed, in full compliance with the standards, regulations and texts in force.
However, in accordance with Article 5 of the GDPR, certain personal data "may be stored for longer periods insofar as the personal data will be processed solely for archiving purposes in the public interest, scientific or historical research purposes or statistical purposes".
What about the use of cookies?
A cookie is a piece of information sent by a server to a client or visitor. It takes the form of a computer file and is placed on the hard disk via the client or visitor's browser to collect information.
Technical and strictly necessary cookies: these cookies are used to save the information entered by the client or visitor, to monitor the browsing activity of the client or visitor to ensure a quality browsing experience on the pages visited, to implement certain security measures, and to access your personal space. The website cannot function correctly without these cookies.
Audience measurement and statistical cookies: these cookies are used to obtain data on the use of our web pages and to improve certain technical and ergonomic aspects. We use WP Statistics (WordPress module) to measure the audience and gather statistics.
Advertising cookies: these cookies are used to display personalised advertising in the allotted areas of our website and our applications, to count the display of advertisements and to recognise your browser during future visits to our website and applications. These cookies can be installed by us or our advertising partners. They are used to establish a unique visitor profile.
Social media cookies: these let you to share the content of our website with other people or to make your opinion on the website content known to third parties. These third-party cookies are intended to improve the interactivity of the website and its multimedia content (YouTube, Facebook, Twitter, etc.).
Duration of cookie storage
Cookies are stored for a maximum period of 13 months after their first recording on the visitor's device. Consent shall be requested again at the end of this period.
Some technical and functional cookies are essential and do not require the user's consent. Other cookies require the consent of the user, who may withdraw that consent at any time.
You can delete cookies at any time by using the options to configure your browser preferences. You can also refuse all or certain cookies by configuring your browsing preferences, as shown in this link for Google Chrome.
What are the legal grounds for processing my data?
The legal basis for processing your collected data is:
the legitimate interest with regard to our activities and mission;
consent;
legal requirements, depending on the circumstances of data collection;
the contractual relationship.
Who receives my data?
Your personal data will only be shared with the services and persons authorised to process them, in accordance with the specified purposes. This data may also be communicated to authorised subcontractors for the purposes of the processing.
Will my data leave the European Union?
Your personal data will be hosted within the European Union. However, as it remains free to choose its technical and/or commercial relations, the Communauté de Communes de Cattenom et Environs and its host OVH SAS reserve the right to host or transfer certain data to subcontractors established outside the European Union provided that they provide sufficient guarantees with regard to GDPR requirements, in particular if the countries present an adequate level of protection in accordance with Articles 44 et seq. of European Regulation EU2016/679 of 27 April 2016.
Is my data secure during processing?
All persons with access to your data are authorised and bound by a duty of confidentiality.
In this respect and in accordance with Article 32 of the GDPR, the CCCE and all subcontractors undertake to implement all necessary technical and organisational measures to guarantee the security and confidentiality of the data processed.
I have various rights – how can I exercise them?
In accordance with the French data protection and freedoms act (Loi Informatique et Libertés) of 6 January 1978, as amended, and the General Data Protection Regulation 2016/679 of 27 April 2016, you have the right to access, rectify, delete and transfer your personal data. You may also obtain a restriction on the processing of your data or object to its processing for legitimate reasons.
You may exercise your rights:
By email to: accueil@cc-ce.com ;
By post to: 2 Avenue du Général de Gaulle – F-57570 CATTENOM.
If you feel that your rights are not being respected, you may also lodge a complaint with the competent supervisory authority at www.cnil.fr/en/plaintes.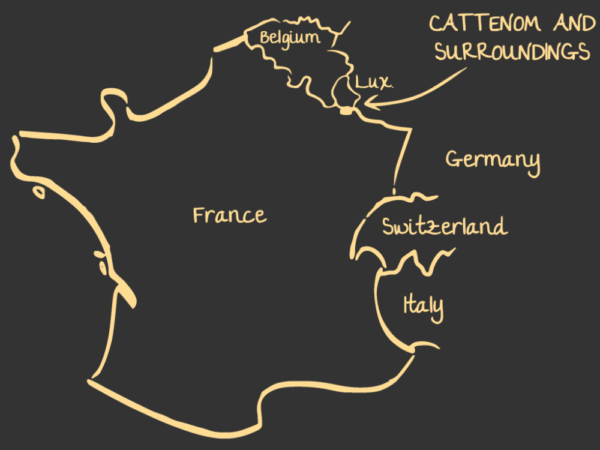 Contact Us
From May 1st to September 30th
The Tourist Office is open every day from 9 am to 12:30 am and from 1:30 pm to 6 pm
From October 1st to April 30th
The Tourist Office is open from Monday to Friday from 9 am to 12:30 am and from 1:30 pm to 5 pm
Address : Place des Baillis, 57570 RODEMACK
Phone : +33 (0)3 82 56 00 02
Email : otcommunautaire@cc-ce.com